LET'S TAKE ANOTHER LOOK AT THE BRILLIANCE OF YAP'S GARDENS
AND PERHAPS WE WILL TAKE WITH US AN APPRECIATION OF THE
FRAGILE ENVIRONMENT WHICH IS SO IMPORTANT TO YAP AND TO ALL OF
MICRONESIA.

AND BELOW, THE MANGROVE FILLED WITH LIFE IS HOME TO MANY BIRDS WHOSE SERENADE IS
CHEERFUL AND
GENTLE.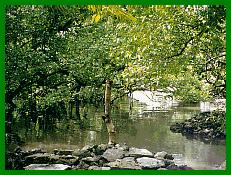 OTHER MICRONESIA LINKS, PLACES TO STAY ON YAP, AND CREDITS MAY BE FOUND ON THE FOLLOWING PAGE.
WE WILL SOON HAVE PAGES
DEVOTED TO ENVIRONMENTAL AND SUSTAINABLE AGRICULTURE ISSUES.
PLEASE VISIT OUR ISLAND AGAIN AND WHEN YOU COME, PLEASE LEAVE IT AS
MOTHER NATURE INTENDED IT TO BE: PEACEFUL, BEAUTIFUL, & SERENE.
KEFEL

RETURN TO OUR FIRST VISIT
My sympathy, my tears, my prayers, and my grief is very evident for all of those who were injured, lost, and for their families & friends, in this terrible, terrible act upon the civilized world which took place on September 11, 2001.
.
CONTACT JEANNE